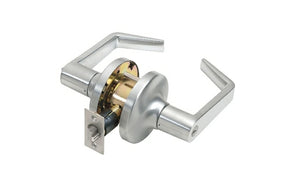 Tell L1070 Grade 1 Classroom Lever Lock
Tell L1070 Grade 1 Classroom Lever Lock
Comes standard with a Schlage SC1 keyway Ideal for classroom doors as well as any door you would like to always stay locked or unlocked with the turn of the key on the lockable side of the door.
STANDARD FEATURES
Performance: Complies with ANSI A156.2 - 2003, Series 4000, Grade 1, 800,000 cycles, UL/ULC listed for 3-hour fire door
Chassis: Cylindrical, steel - coated with zinc dichromate (corrosion resistance), freewheeling clutch (added security from hammer attacks), independent spring cages
Lever: Non-handed, solid cast
Latch: 1-1/8" x 2-1/4", square corner faceplate, 1" housing diameter (stainless steel), 1/2" throw
Rose: 3-1/2" diameter
Backset: 2-3/4"
Strike: Square corner 1-1/4" x 4-7/8" ANSI ASA Strike
Door Range: 1-3/8" to 2"
Door Preparation: 2-1/8" diameter for lever, 1" diameter for latch bolt. Fits standard 161 door prep with through-bolting through the door.
Warranty: Limited Lifetime 
Strike: T Strike (1-1/8" x 2-3/4"), and F Strike (full lip)
Function: Classroom