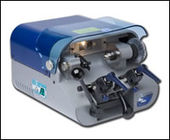 ilco Semi-Automatic Key Machine KD50C
KD50C Semi-Automatic (Lever) Operation
A superbly crafted machine, the lever operated KD50C provides remarkable speed and accuracy.
Cuts single sided keys in as little as 5 seconds! The vise jaws are engineered to securely grip even the most troublesome double-sided auto keys.
This model delivers unsurpassed accuracy and cutting performance. Loaded with features every user will appreciate.
Automatic power on-off controlled by micro-switch, activated by raising or lowering the carriage
Carriage tension spring provides optimum cutting pressure for consistent results and improved accuracy
Precise adjustments; two micrometer knobs adjust depth and spacing (distance between cutter guide and cobalt steel cutter)
Counter weighted key gauge automatically releases as the carriage is raised
Precision two-position, extra wide spaced vise jaws that securely clamp residential, padlock, double-sided automotive keys, including longer blade or larger head keys such as rubber head keys and hotel-motel keys
Built-in light illuminates carriage and vise jaw surfaces
Large diameter cobalt steel cutter; durable and long lasting
"Soft Touch" nylon key deburring brush